Chanson Wins Best Choir Award
Southern Invitational High School Choral Competition and Festival at Georgia Southern University
Friday, October 23, 2015
The ladies of the Chanson Ensemble traveled to Georgia Southern University on Friday, October 23 to participated in the First Annual Southern Invitational High School Choral Competition and Fesitval.
Ten high school choirs from across Georgia were selected to attend the festival. The Cambridge ladies were given a tour of the GSU campus by members of the GSU Southern Chorale and discussed college life and music with current GSU music students. They also attended a performance of the one-act opera The Medium, performed by GSU vocal performance students.
Before their performance, Chanson worked with Dr. David Langley, Assistant Professor of Music at GSU. Dr. Langely is well known to many of the Cambridge students as he did some of his doctoral research with the Cambridge choirs.
Each choir at the festival performed their best repertoire for a panel of three judges, each an experienced choral teacher and director. At the end of the festival, the Cambridge Chanson ensemble was presented with the trophy for Best Treble Choir and the Grand Prize Best Choir at the festival award.
August 13, 2015 Parent Meeting
Thank you to everyone who came to the Parent Meeting this evening. If you were not able to attend, the presentation for the meeting is below.
The chorus program funding approach is changing from a membership-based model to a participation fee model. This is consistent with the other school performing arts groups and sports teams. The previous approach was simply not sustainable. More information about this change is in the presentation below.
The Chorus Participation Fee is $85. These funds are used to pay for sheet music, accompanists, recordings, membership in state and national chorus associations, and other production costs. Please send in your $85 Participation Fee so that we will have all of our students fully able to participate.
---
August 10 - Online Calendar Updated
The online calendar has been updated with 2015-16 performance dates.
---
Chorus Banquet - May 15
Thanks to all Chorus members and their familes who came to the 2015 Chorus Banquet. Here's to a great end to the 2014-15 school year and best wishes for an even better nexy year.
---
Our New Piano
Due to the great generosity of our chorus families, we were able to pay for our new grand piano on time.
Thanks to all those who helped make this milestone happen, including Dr. Spurka, the CHS Band, the CHS Orchestra, and all of our supporters.
---
All State Chorus - 2015
This year seven members of the Cambridge Chorus were selected to participate in the Georgia Music Educators Association (GMEA) All State Chorus March 5-7 in Athens. Congratulations to Diyung, Elizabeth, Jasi, Kendall, Lindsay, Marta, and Sarah, on being selected for this honor.

The All State Chorus consists of four separate ensembles: Intermediate (9th/10th) Mixed Chorus, Senior High Women's Chorus, Senior High Men's Chorus, and Senior (11th/12th) Mixed Chorus. Participants are selected through a competetive audition process where they are evaluated on their singing of a prepared solo piece, scales, and sight reading.
Cambridge singers take a lunch break after long morning rehearsals at All State Chorus.
---
All State Reading Choir - 2015
Three members of the Cambridge High School chorus recently performed with the Georgia Music Educators Association's All State Reading Chorus. Only 100 singers were selected through a statewide audition process that evaluated their skills in sight-reading music.

The GMEA Reading Chorus is a unique performance ensemble and learning experience. Following the rigorous selection process, the singers spent two days sight reading choral music while being led by an experienced conductor. After sight reading over 70 compositions, a few were selected to be performed in a concert. The chorus even performed a piece that they received for the first time while on stage.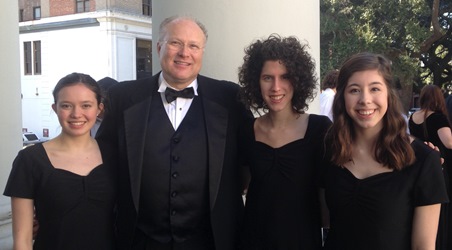 Cambridge singers Sarah, Marta, and Cate, stand with Dr. Stanley Roberts from Mercer University who was the guest conductor for the All State Reading Choir.
---
CHS At Spivey Hall - 2014
Seven CHS chorus members participated in the Spivey Hall High School Honor Choir in October, culminating in a public performance on October 25. The choir clinician and conductor was Dr. Edward Maclary, Director of Choral Activities at the University of Maryland School of Music. CHS was the only FCSS high school to participate in the Spivey Hall Honor Choir this year.